Della Q | interchangeable needle case
new design for 2023 + limited stock on the original
$38 + FREE U.S. SHIPPING OVER $75
---
SEE ALSO NEW FABRICS INTERCHANGEABLE CASE
---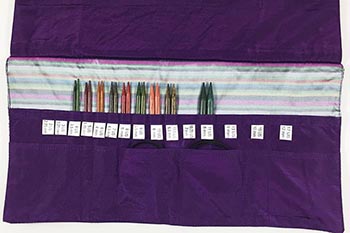 The Interchangeable Needle Case is a case with a little extra space. It's perfect for storing a complete interchangeable needle set and folds up to wallet-sized for easy storage. It has fifteen numbered pockets as well as five unnumbered tip pockets and four-cord pockets. Additionally, it has a zip pocket on the side to store connectors and tools. Includes spaces for US sizes 2-15 (2.75-10mm). Available in several trendy fabric options.
New! Linen Collection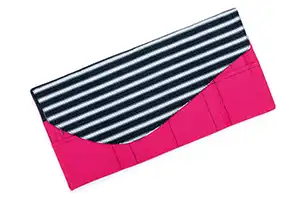 Lovely linen fabric on the outside, paired with contrasting denim stripes on the inside. An asymmetrical flap adds a little interest, and a super functional elastic and button closure allow it to easily stretch when stuffed with needles!
---
Closed: 4" w x 7.25" h
Open: 15" w x 7.25" h
NEW DESIGNS AND COLORS FOR 2023!
LIMITED STOCK ON ORIGINAL DESIGNS
Della Q 185 Interchangeable Needle Case
FIBER: Poly-Silk or 100% Cotton
DIMENSIONS: Closed: 4" x 7.25" / Open: 15" x 7.25"
POCKETS: Fifteen numbered pockets for tips, five additional unnumbered + Four unnumbered pockets for cords + Zip pocket for connectors and tools
HOLDS NEEDLES SIZES: US Numbers: 2, 3, 4, 5, 6, 7, 8, 9, 10, 10.5, 10.75, 11, 13, 15, 17 (Metric Numbers: 2.75, 3.25, 3.5, 3.75, 4, 4.5, 5, 5.5, 6, 6.5, 7, 8, 9, 10, 12) / Pocket depth of 3