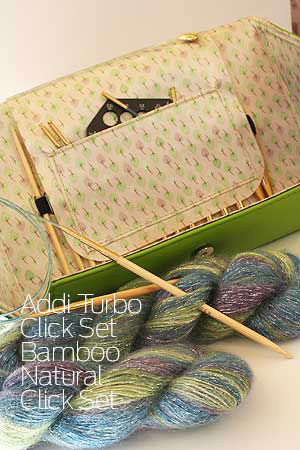 $134.40 or less after Fab Discounts at checkout
+ Free Shipping (Reg $168)
(Avail: )
---
ADDI's Bamboo Turbo Clicks feature beautifully polished bamboo in warm to-the-touch wood. For those of us who prefer wood, Skacel has obliged with their CLICK bamboo interchangeable needle set. 8 5-inch tips and three different cords, plus a connector to give you over 500 different length/size combinations. No tools, no screwing in, no stripped threads, just insert the tip into the cord, twist and click and you're ready to knit! Awesome!
---
Tip Sizes
Cords/Accessories
8 tips:
* 3.5mm (US #4)
* 3.75mm (US #5)
* 4.0mm (US #6)
* 4.5mm (US #7)
* 5.0mm (US #8)
* 5.5mm (US #9)
* 6.0mm (US #10)
* 8.0mm (US #11)

3 Cords:

* 60 cm (24 inch)
* 80 cm (32 inch)
* 100 cm (40 inch)
1 Connector
1 ADDI GRIP
Needle Size Gauge Carrying Case
ADDICLICK INTERCHANGEABLE KNITTING NEEDLE SETS
The Addi Click System explained

The Addi Click system gives you flexibility, versatility, and portability. Choose from multiple sets with 8 to 10 different tip types, multiple cord lengths, plus accessories that all fit and work together. Pick your set and add to it—there is no end to the possibilities when you choose ADDI Click!

Made in Germany with a lifetime guarantee, the Addi Click interchangeable circular needle system includes Addi Turbo, Addi Turbo Lace, Addi Natura (Bamboo and Olivewood), and Addi Hook (Crochet) tips! The unique Click tips require no tools to change—just a quick twist and release.