$16.80 or less + FREE U.S. SHIPPING! (Volume discounts applied at checkout on Malabrigo orders over $75)
(Avail: )
---
Paris Night is one of Malabrigo's most interesting colors. It varies from skein to skein, but is basically a combination of really dark indigo and black hinted with grey. Gorgeous, subtle and dramatic. Great choice if you're searching for a color for a man.
---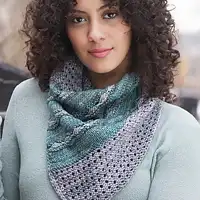 FIBER: 4 Ply 100% Superwash Merino Wool
YARDAGE/WEIGHT: 210yds/3.5oz
GAUGE: 4.5-5.5sts /1" on US 6-8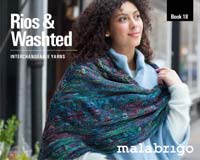 GOT PATTERNS? Order The Rios And Washted pattern book: includes 2sk Via Carota scarf (above/right), takes 1 sk ea 2 colors, either Rios or Washted. Shown in Rios Gris 212 + Kris 725.
Malabrigo Rios Superwash worsted SPECS
FIBER: 100% Superwash Merino Wool
LENGTH/WEIGHT: 210yds/3.5oz
GAUGE: 4.5-5.5sts /1" US 6-8
YARN WEIGHT: Worsted
CARE: Machine Wash Gentle Cold, Dry Flat