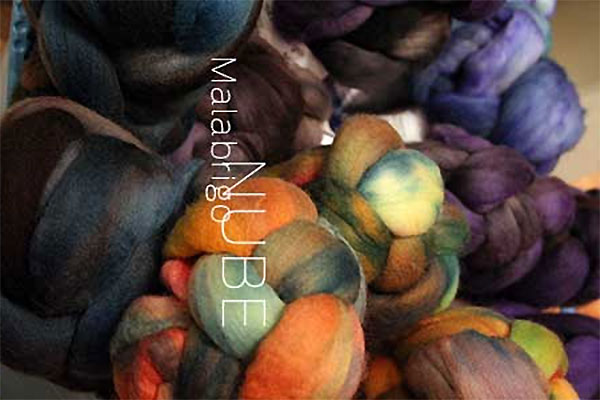 $15.00 Or less: discounts apply to Malabrigo orders $50 or more!) Free shipping on all Malabrigo (US)
---
Malabrigo's beautiful braids of pure merino roving is handpainted in select Malabrigo Colors. GORGEOUS! Wonderful for spinning, especially on our beautiful Schacht Spinning Wheels, or Needle felting or crafting... arm knitting too! Truly a joy to spin, full of fluff and loft and unmatched softness! You can also knit with the roving itself for a uniquely fluffy effect, or use it for thrums or needlefelting. Great for: Spinning, thrums, needle-felting, wet-felting, accessories, weaving, other arts and crafts projects.
---
Skeins vary from bag to bag: order enough for your project! Need a color or quantity we don't have? Special Order Malabrigo Nube here.
FIBER: 100% Merino Wool Spinning fiber. Single Ply Roving for spinning, needle felting and crafts. May be used for arm knitting also.
WEIGHT/length: Roving / 113 grams/5y (4.6m)
CARE: Hand wash cold. Lay flat to dry.
NOTE: Malabrigo does not guarantee lot matches beyond bags of 10. We attempt to visually match lots on all orders. If we cannot, we will contact you prior to shipping if we believe there is a problem.