$16.80 or less + FREE U.S. SHIPPING! (Volume discounts applied at checkout on Malabrigo orders over $75)
(Avail: )
---
Malabrigo's best loved blue color here in Rios... fabulous Azules is lovely, tonal and just the thing for knitting up into shawls and wraps, or anything, really, that can show off this fabulous colorway.
---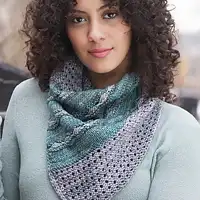 FIBER: 4 Ply 100% Superwash Merino Wool
YARDAGE/WEIGHT: 210yds/3.5oz
GAUGE: 4.5-5.5sts /1" on US 6-8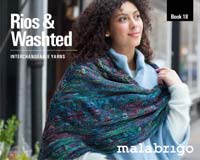 GOT PATTERNS? Order The Rios And Washted pattern book: includes 2sk Via Carota scarf (above/right), takes 1 sk ea 2 colors, either Rios or Washted. Shown in Rios Gris 212 + Kris 725.
Malabrigo Rios Superwash worsted SPECS
FIBER: 100% Superwash Merino Wool
LENGTH/WEIGHT: 210yds/3.5oz
GAUGE: 4.5-5.5sts /1" US 6-8
YARN WEIGHT: Worsted
CARE: Machine Wash Gentle Cold, Dry Flat