$12-18.00 OR LESS After FAB discounts applied at checkout (reg price 15.00-22.50 shown below) + Free U.S. Shipping on orders over $75!
---
Addis 20" rockets are just a bit longer than the 16s, perfect for oversized cowls, working sweater bodies with a little larger of a sleeve or neck in circular. The Lace (read: Sharper) tips combined with the Turbo Finish make them the PERFECT needle. We mean it!
---
Order a whole set of all 19 needle sizes and save an extra 5% off! (reg $320).
---
Note: SOCK ROCKETS are just ROCKETS in the smaller sizes. they are the exact same needle as the Rockets! All come with a 100% Guarantee against defects when you buy from an authorized ADDI dealer like us! Order Sock Rockets here!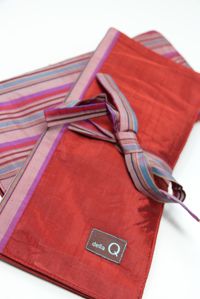 Addi Rockets
Addi Rockets are a hybrid - a mix of the ADDI Lace Tip (read: Sharp) and the TURBO finish (read: FAST). They are slightly less grabby than the regular lace tips, and a tad less sharp because they have the turbo finish and coating - but they will help you knit fast and furious - and for those who like a slightly sharper tip, but want the TURBO finish, these are the needle for you!
Right: A Fabulous place to keep your circulars, Della Q's Trifold Circular Needle Case!
---
ROCKET TIP SPECS
16 & 20" needle lengths have 3.5" tips
24 - 60" needle lengths have 5" tips
Other Addi Products you'll love!
The Addi Click System explained

The Addi Click system gives you flexibility, versatility, and portability. Choose from multiple sets with 8 to 10 different tip types, multiple cord lengths, plus accessories that all fit and work together. Pick your set and add to it—there is no end to the possibilities when you choose ADDI Click!

Made in Germany with a lifetime guarantee, the Addi Click interchangeable circular needle system includes Addi Turbo, Addi Turbo Lace, Addi Natura (Bamboo and Olivewood), and Addi Hook (Crochet) tips! The unique Click tips require no tools to change—just a quick twist and release.