$56.32 or less + Free Shipping (reg $70.40) Discounts applied at checkout.
---

This amazing set of interchangeables features super-strong carbon fiber bodies with stainless steel steel needle tips. 5 tip Sizes, 2 cords, with size markers, end caps, and cord keys to secure the tips to the cord. Great set for lighter yarn weights, with sizes US 2.5-6; great addition to the Midi set with the larger tips. Or go for the complete Deluxe Set with all the Karbonz sizes.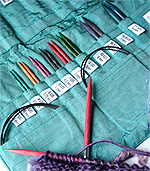 This set works great in Della Q's Interchangeable Travel wallet (at right)
includes 5 tip Sizes: 3mm (US #2.5) + 3.25mm (US #3) + 3.5mm (US #4) + 3.75mm (US #5) + 4.0mm (US #6)
includes Cords/Accessories: 2 Cords: 1@ 24" + 1@ 32" plus: Size Markers, Endcaps, Cord keys and Black/grey fabric carry case.
More! Knitters Pride Karbonz Carbon Fiber Interchangeable sets
Knitters Pride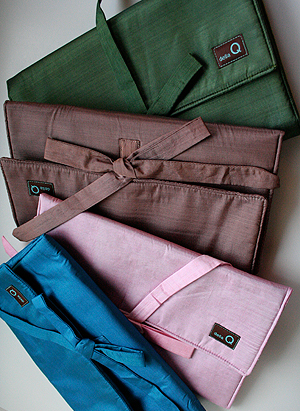 Knitters Pride makes unusual and exotic tools for knitters and crocheters. From Rosewood, to Nickel, to Swarovski Embellished tips, you'll find the tools that make your craft even more fabulous!
Want to dress up your KP Interchangeable Set? Try a Della Q or Offhand Design SWITCH cases! Della q interchangeable needle cases in pure silk protect your needles in style.