This amazing set of interchangeables features Carbon Fiber and Stainless steel interchangeable needle tips. 9 Tip Sizes, 4 cords, with size markers, end caps, and cord keys to secure the tips to the cord.
Tip Sizes
Cords/Accessories

Set of 9 needle pairs & accessories

in Black & Grey fabric case
4 Cords (to make 24", 40" & 2 of 32")
1 Set of size markers
8 End caps
4 Cord keys



This set is great with the Della Q Interchangeable Travel wallet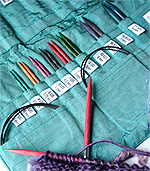 The della 180 will hold one set of these fabulous interchangeable needle sets - the 190 will hold two sets - of any sets - Addi, Dreamz, Cubics or Karbonz Deluxes!