$78.88 or less + Free U.S Shipping (Reg $98.60) Discounts applied at checkout.
---

We love our Dreamz Interchangeable Needle set with color coded tips! Lightweight and perfectly polished hardened birch tips handle any yarn beautifully, while the fine, but not TOO pointy tips make picking up stitches easy.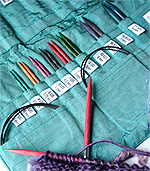 ANd we LOVE having all the sizes we need to hand!
Carry your needles in a Della Q Interchangeable Case! (at right)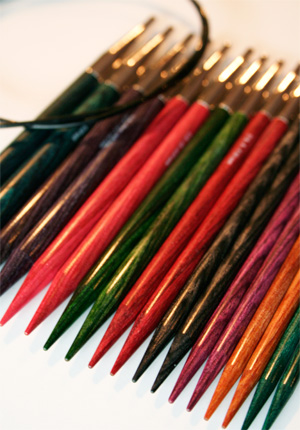 These needles have a beautiful finish, are colored coded so no mixing up sizes, and secure join to the very flexible cables. The points are nice and sharp, but won't hurt your fingertips. Very light, very easy to handle.
includes 9 Tip Sizes: 3.5mm (US #4) + 3.75mm (US #5) + 4.0mm (US #6) + 4.5mm (US #7) + 5.0mm (US #8) + 5.5mm (US #9) + 6.0mm (US #10) + 6.5mm (US #10.5) + 8.0mm (US #11)
includes Cords/Accessories: 4 Cords: 1@ 60cm (24 inch) + 2@ 80cm (32 inch) + 1@ 100cm (40 inch)... plus Size Markers, Endcaps, Cord keys, plastic carry case.
See also Knitters Pride Cubics interchangeable Knitting Needle Set
Knitters Pride
Knitter's Pride makes unusual and exotic tools for knitters and crocheters. Whether Birch, Nickel, Carbon Fiber or their Mindful collection, you'll find the tools that make your craft even more fabulous!
---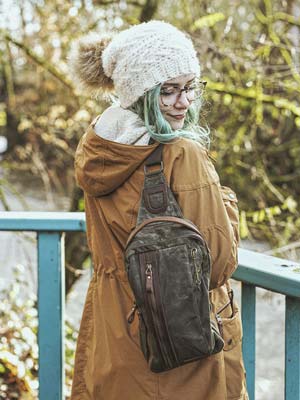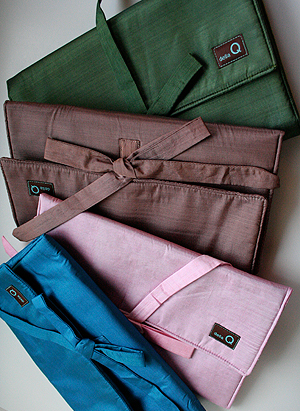 Travelling with your KP Needle Set? Try a new Della Q Maker's case (left), or take along a Della Q interchangeable needle case (right) to protect your needles in style.