$20 or less + FREE U.S. SHIPPING! (Volume discounts applied at checkout on Malabrigo orders over $75)

(Avail: )
---
A super-cool new color: very, very dark charcoal brown and black moving up to a chery red and then greens/olives. Really dark, very unusual. Click on the image above to jump to are larger image that you can zoom in on to really get a feel for this amazing color!
---
FIBER: Kettle Dyed Superwash Merino Wool LIGHT FINGERING
YARDAGE: 440 yds (402 m) / 100 gms
NEEDLE: US 1-3 (2.25-3.25mm)
---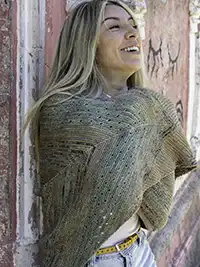 Free Pattern: Malabrigo's beautiful 3 color Temperance shawl (from the 2022 KAL, shown in Myths, Gingy & Jasmine) included as PDF download after checkout!
For More sock patterns See Book #14, Book #20 (below), + Book #3!
Looking for more sock yarn? Try our Tivoli Merino Sock with a touch of polyamide for strength!
---
note: Most Malabrigo is "NO DYE LOT". As best possible, we visually match your skeins! For large quantities you can SPECIAL ORDER Malabrigo Sock. (Subject to Availability at Malabrigo!)
---
See also Malabrigo Ultimate (Superwash) Sock and Metamorphosis Sock Cakes
Malabrigo Sock Yarn SPECS
FIBER: Kettle Dyed Superwash Merino Wool
LENGTH/WEIGHT: 440 yards (402 meters); 100 grams (3.53 ounces)
GAUGE: Light Fingering
NEEDLE SIZE: US 1 - 3 or 2.25 - 3.25mm
SOURCE: Malabrigo Merino, Uruguay
CARE: Machine washable, gente cycle, cold water, do not tumble