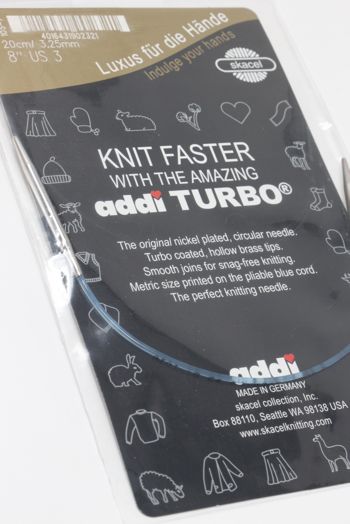 $10.45 OR LESS After FAB discounts applied at checkout + Free Shipping on orders over $75!
---
Our 8" Addi Turbo circular needles are perfect for smaller projects - socks, baby hats, booties, mitts, legwarmers, wristies. Addi Turbos feature sharp tips, super flexible cables, and the patented turbo finish. They come with a 100% Guarantee against defects. We are an authorized ADDI dealer.
ADDIS range in price from 13.06 to 26.50 before the discounts, depending upon tip size. Free Shipping on orders over $75. Purchase a full set of needles and receive an extra 5% off the individual needle price.
The Addi Click System explained

The Addi Click system gives you flexibility, versatility, and portability. Choose from multiple sets with 8 to 10 different tip types, multiple cord lengths, plus accessories that all fit and work together. Pick your set and add to it—there is no end to the possibilities when you choose ADDI Click!

Made in Germany with a lifetime guarantee, the Addi Click interchangeable circular needle system includes Addi Turbo, Addi Turbo Lace, Addi Natura (Bamboo and Olivewood), and Addi Hook (Crochet) tips! The unique Click tips require no tools to change—just a quick twist and release.