$143.20 or less after Discounts Applied at Checkout + Free Shipping (Reg $179.00) Includes Della Case! BACK IN STOCK!
---

Our new Zen Interchangeables are amazing! This set in gorgeous, sustainably harvested rosewood will help you create knitting magic. Huge set of ten tips and 3 cords accomodates most knitting needs, and with the Della Q case you've got the perfect knitter's gift. Don't wait—these Zen needles go fast!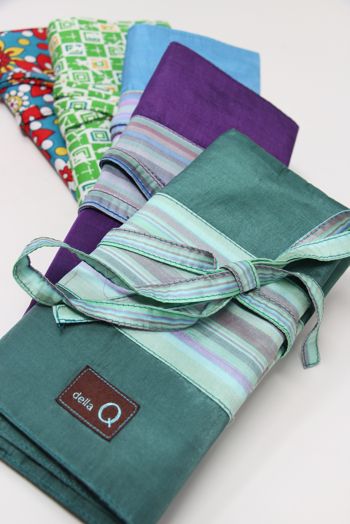 Set Includes Free Della Q Interchangeable Travel wallet (at right).
All Zen interchangeables feature 5-inch tips ending in a brass cap that fits securely into the detachable cords that swivel, which means your tips won't unscrew as you knit because your cable won't be twisting and turning! LOVE IT! Beautifully grained, hand polished, this set comes with a tightener, end caps, and three cords (you can purchase more separately.

includes 10 Tip Sizes: 3.5MM (US #4) + 3.75MM (US #5) + 4.0MM (US #6) + 4.5MM (US #7) + 5.0MM (US #8) + 5.5MM (US #9) + 6.0MM (US #10) + 6.5MM (US #10.5) + 8.0MM (US #11) + 9.0MM (US #13)
includes 3 Cords/Accessories: 60CM (24 INCH) + 80CM (32 INCH) + 100CM (40 INCH) + END CAPS/STOPPERS + DELLA Q CASE
We've also got Zen Interchangeables in Ebony