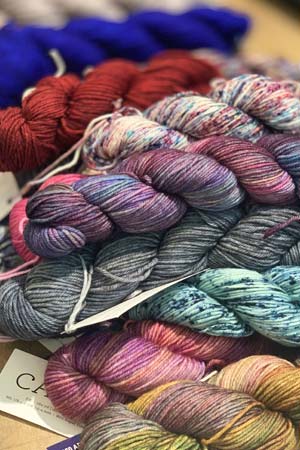 $18.00 or less + FREE U.S. SHIPPING! (Volume discounts applied at checkout on Malabrigo orders over $75)
---
---
Need a color or quantity we don't have on our main Malabrigo Caprino Yarn page? Place your special order here—note 4 skein minimum on Malabrigo Lace special orders. Subject to availability... we'll notify you within 24 hours of any extended delays!
MALABRIGO CAPRINO SPECS
FIBER: 80% Super Fine Merino, 20% Cashmere
WEIGHT/length: PLIED DK | 50G | 164 Yards/150 meters
GAUGE: 24 sts = 4 inches
NEEDLE SIZE: US 4-6 OR 3.5-4 mm
CARE: HAND WASH, COLD WATER, DRY FLAT
SOURCE: PERU
---
Note: We work to make sure your skeins match! However do order enough yarn to complete your project for as with any hand dyed yarn, skein colors can vary from bag to bag and even from skein to skein. For random color distribution, work from two balls of yarn at once, alternating a few rows from each ball.