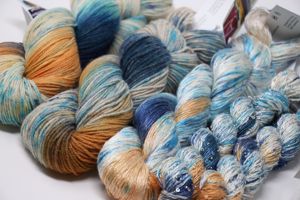 Artyarns dedicates a series of colorways to America's glorious National Parks!
---
What comes to mind when you think about the US National Parks? The Grand Canyon, of course. Yosemite, Yellowstone... but did you know that there are over 61 National Parks in the US? And that's not including monuments or historic properties! The 4th color way in the series, is inspired by the Great Smoky Mountains Park. Full of Energy and Natural Beauty, the trees, the morning mist, and the abundant colorplay between earth is sky is dazzling.
Great Smoky Mountains National Park straddles the border between North Carolina and Tennessee. The sprawling landscape encompasses lush forests and an abundance of wildflowers that bloom year-round. Streams, rivers and waterfalls appear along hiking routes that include a segment of the Appalachian Trail. An observation tower tops Clingmans Dome, the highest peak, offering scenic views of the mist-covered mountains.
Our national parks welcome more than 300 million visitors a year, and all of them are fabulous visual inspirations! But, they are struggling! Under funding cut threats from the current administration, as well as threats from logging, oil and gas drilling, the parks need our help! As part of our series, Artyarns will be donating a percentage of earnings on this fabulous line of colors to the National Park Service!
---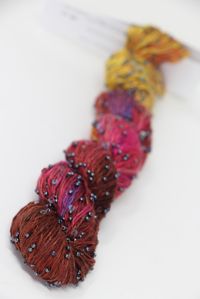 For more Limited Edition Artyarns, see our Inspiration Club Series!
ARTYARNS NATIONAL PARK COLOR SERIES | Great Smoky Mountains
---
Great Smokey Mountains Partner Colors
Free pattern with your National Parks Purchase!

leave us a note at checkout with your choice. Chat if you need help/advice!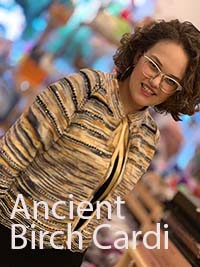 ANCIENT BIRCH CARDI:
3 Fiber Version: 2 Skeins merino cloud Transitions Color + 1 sk Silk Day Dream + 1 sk Bssqlt in Transitions Color + 1 sk Merino Cloud in contrast color (2246)
2 Fiber Version: 3 sk merino cloud in Transitions Color + 1 sk Beaded Silk & Sequins Light in transitions + 1 sk Merino Cloud 2246
---
ARTYARNS MERINO CLOUD SPECS
FIBER: 80% Fine Merino 20% Cashmere
LENGTH: 437 yards/400 meters/100g
GAUGE: 5.5 sts = 1 inch (FINGERING/LIGHT DK) on US 5 Needles
SOURCE: Italian Merino & Cashmere
CARE: Dry clean or hand wash with AIR DRY LAYING FLAT
---
BEADED SILK & SEQUINS LIGHT SPECS
FIBER: 100% Silk with Beads & Sequins
LENGTH: 50 grams 100 meters/110 yards
GAUGE: 5 Stitches per inch on #6
CARE: Dry clean or hand wash / AIR DRY LAYING FLAT
---
SILK DREAM(Glitter)/Silk Dream (No Glitter) SPECS
FIBER: 100% Silk fingering, handpainted in 2 plies with or without a single ply of glitter
LENGTH: 400 Yards/90 Grams
GAUGE: Size US3 Needles 7 Stitches per inch/9 Rows per inch. Weight: Super Fine (1ace). Dryclean/Normal/Do Not Iron
SOURCE: HAND-MADE in the US from imported japanese silk
CARE: dry clean/handwash. AIR DRY LAYING FLAT. Do Not Iron