Artyarns inspirations club LIMITED EDITION COLORS: NEW FOR MARCH! Tulip Gardens
March's Inspiration club color Tulip Gardens! A sassy and winter-brightening combo of raspberry, cherry, hot coral, yellow... and greens!
Inspiration Club Colors come in 3 great Artyarns fibers: Merino Cloud, Beaded Silk Sequin Light, or Silk Dream Lace. 6 Free project patterns included as a download - Swipe down to see pix + details bottom of page.
Want more Inspiration? JOIN the Artyarns Inspiration Club to get latest color updates and be able to RESERVE your skeins in advance. New colors arrive every other month in limited quantities: once they're gone, they're gone! Advance order Limited edition colors shipped bi-monthly as they're painted.
Click button to join the club:
MARCH 2019: TULIP GARDENS - 3 FIBERS
---
MARCH MERINO CLOUD PARTNER COLORS
ARTYARNS MERINO CLOUD SPECS
FIBER: 80% Fine Merino 20% Cashmere
LENGTH: 437 yards/400 meters/100g
GAUGE: 5.5 sts = 1 inch (FINGERING/LIGHT DK) on US 5 Needles
SOURCE: Italian Merino & Cashmere
CARE: Dry clean or hand wash with AIR DRY LAYING FLAT
BEADED SILK & SEQUINS LIGHT SPECS
FIBER: 100% Silk with Beads & Sequins
LENGTH: 50 grams 100 meters/110 yards
GAUGE: 5 Stitches per inch on #6
CARE: Dry clean or hand wash / AIR DRY LAYING FLAT
SILK DREAM(Glitter)/Silk Dream (No Glitter) SPECS
FIBER: 100% Silk fingering, handpainted in 2 plies with or without a single ply of glitter
LENGTH: 400 Yards/90 Grams
GAUGE: Size US3 Needles 7 Stitches per inch/9 Rows per inch. Weight: Super Fine (1ace). Dryclean/Normal/Do Not Iron
SOURCE: HAND-MADE in the US from imported japanese silk
CARE: dry clean/handwash. AIR DRY LAYING FLAT. Do Not Iron
ARTYARNS INSPIRATION CLUB PATTERNS for MARch 2019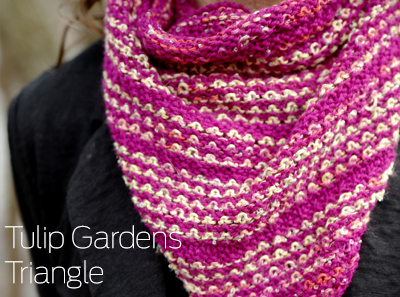 Tulip Gardens Triangle, designed by Iris Schreier, uses 1 skein of Merino Cloud in partner color, and 1 skein of Beaded Silk and Sequins in Tulip Gardens colorway.
US 7 Needles: Note: Gauge is critical on this to make sure the finished piece is wide enough to fit around the neck. You may need to go larger in needle size.