$108 before discounts applied at checkout + Free Shipping (US)
---
Materials: 1 Skein of Merino cloud + 1 skein of Ensemble Light
---
---
Stunning, and full of interesting curves and turns, you'll learn lots of new techniques. This is an intermediate project, not for beginners unless you are willing to sweat it out with the rest of us! Of course, the Ravelry group will be there for love and support throughout the project!
What's a Knitalong (KAL?)
A knitalong is a group that you join on Ravelry or other community knitting sites. This KAL is on Ravelry (see link below). To join the KAL: Go to the group, hit CAST ON, & post a picture of your yarn. Prior to the KAL starting, you'll receive part 1 of the pattern from the group moderator. Complete the current pattern part, post a pic, and you'll get the next section. It's a great way to learn new techniques, and have a support group to share your progress as you knit the project! More about the CURVED TRIANGLE KAL at Ravelry.
Combos For the KAL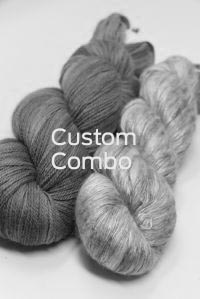 Enter your custom combo colors (1 Merino Cloud/1 Ensemble Light) in the text box below!
Curved Triangle Shawl SPECS
INCLUDES: Two Skeins: 1 Merino Cloud + 1 Ensemble Light
FIBER/LENGTH Merino Cloud: 80% Fine Merino 20% Cashmere | 437 YARDS/100G
FIBER/LENGTH Ensemble Light: 50% SILK/50% CASHMERE | 400 YARDS/80 GRAMS
Suggested Needle for this project is a US7 Circular length 40 to 60"