$92.80 after fab discounts applied at checkout (reg $116) + FREE U.S. SHIPPING OVER $75.
---
Materials: 1 Skein of Merino cloud + 1 skein of Ensemble Light
---
---
Stunning, and full of interesting curves and turns, you'll learn lots of new techniques. Introduced as a KNITALONG in January 2020, the combination of merino cloud & ensemble light plays color against color and fiber against fiber in a dramatic 2 color pattern. This project is also available in the CURVED TRIANGLETOP
Check out all the Projects in CURVED TRIANGLE KAL at Ravelry.
Combos For the KAL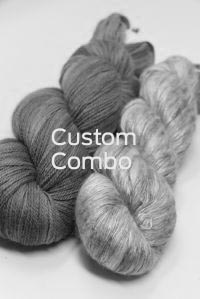 Enter your custom combo colors (1 Merino Cloud/1 Ensemble Light) in the text box below!
Curved Triangle Shawl/TOP SPECS
INCLUDES:
Shawl: 2 Skeins: 1 Merino Cloud + 1 Ensemble Light
Top: 2 - 3 Skeins each of Merino Cloud and 2 - 3 Skeins of Ensemble Light depending upon size
FIBER/LENGTH Merino Cloud: 80% Fine Merino 20% Cashmere | 437 YARDS/100G
FIBER/LENGTH Ensemble Light: 50% SILK/50% CASHMERE | 400 YARDS/80 GRAMS
NEEDLE: Suggested Needle for this project is a US7 Circular length 40 to 60"
CARE: Handwash lay flat to dry