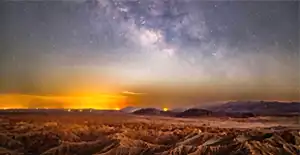 New for November 2022: Inspiration Club Color Borrego Badlands!  Based on a photo from the Borrego Badlands, a beautiful region of Southern California which was once undersea, and includes a maze of hills and arroyos. We tried to capture the deep moody flavor of the area, ending up with quite a mysterious deep and rich colorway. You'll see hints of greenish brown, rust, gold, grey blue, and purple in this cohesive color that is so much fun to knit.
Free project patterns included as a download!
Want more Inspiration? JOIN the Artyarns Inspiration Club to get latest color updates and be able to RESERVE your skeins in advance. New colors arrive (approx) every other month in limited quantities: once they're gone, they're gone! Advance order Limited edition colors shipped bi-monthly as they're painted.
---