$135 + Free U.S. Shipping
---

Joy Of Knitting Needle Set set carries the most popular 7 tip sizes that every knitter needs - and they're unique in multiple ways. 1, they are cubics. 2 THE COLOR (Purple/Red/Orange). The 5 inch needle tips, and the vast assortment of accessories are all offered in a fabulous 60's inspired needle felted pouch.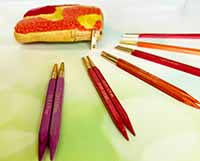 CORDS: 3 Nylon coated 360° Stainless steel swivel cords in sizes 24"/60cm, 32"/80cm & 40"/100cm.
includes Accessories: 6 end caps & 2 cord keys, 30 metal stitch markers (10 each in red, orange and purple), 3 wool needles and 3 stitch holders in small, medium & large sizes,
TIPS: 7 pairs of Cubic Interchangeable needle tips in sizes 4.0, 4.5, 5.0, 5.5, 6.0, 6.5 & 8.0mm (US 6, 7, 8, 9, 10, 10.5 & 11) with gold connectors
PLUS: A mini sized matching punch needle-embroidered pouch for all those useful accessories.
---
Please note: This is a limited edition run and when they sell out....they are gone! As mandated by Knitters Pride, volume discounts may not be applied to this Limited Edition Set. Please sign up at the top of any page to receive your 5% Elist Discount code, which will be applied to your entire order where permitted!