$70 (Volume discounts will not apply to this colorway) + Free U.S SHIPPING!
---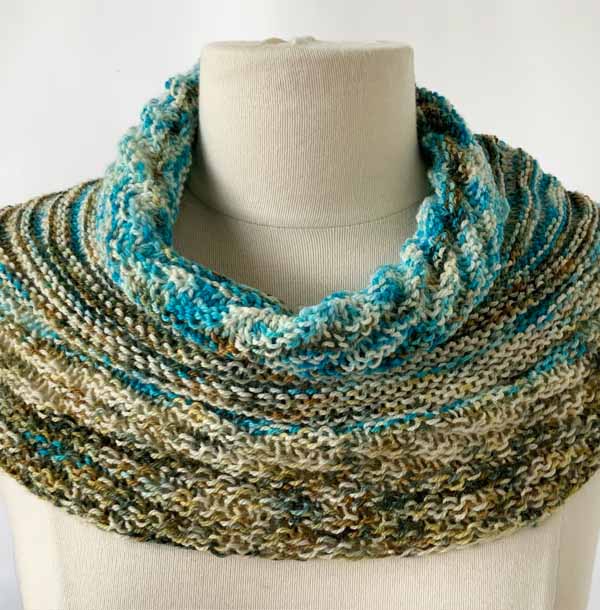 Lots of Artyarns kits and patterns for this yarn, like the Lazy Days Shawl at right.
A stunning fingering weight handpainted blend of Silk and Cashmere, Artyarns ensemble light is a wonderful luxury yarn. This incredible 2 ply silk and cashmere in all of Artyarns color series, from elegant to fanciful. Soft, and lofty, with stunning stitch detail, this unusual 2-ply silk-cashmere is a side by side plied yarn—not twisted, so your stitches take on more depth and definition than you've ever seen before.
We love Artyarns Ensemble Light yarn, we use it mostly in fingering weight projects, for absolutely fabulous shawls, wraps, scarves and kimonos. The blend of these two luxury fibers and their incredible hand will rock your needles, and the colors! This colorway comes with a free download of the White Sands Cowl, you may request any artyarns pattern in the comments at checkout! Sign up for your extra 5% Off code at checkout! GIVE ME THE CODE!
---
FIBER: 50% Silk/50% Cashmere
YARDAGE: 400 Yds (80 Gm)
GAUGE: 5 st/in on US#6 (Fingering/Very Light DK weight)
ARTYARNS NATIONAL PARK COLOR | White Sands
---
WHITE SANDS PARTNER COLORS
Free 15 pattern book w/ National Parks Purchase: including these and more
MERINO CLOUD SPECS
FIBER: 80% Fine Merino 20% Cashmere
LENGTH: 437 yards/400 meters/100g
GAUGE: 5.5 sts = 1 inch (FINGERING/LIGHT DK) on US 5 Needles
SOURCE: Italian Merino & Cashmere
CARE: Dry clean or hand wash with AIR DRY LAYING FLAT
---
silk mohair 2-ply specs
FIBER: 60% Super Soft Kid Mohair/40% Silk
YARDAGE: 43+ Grams / 620 Yds / 567 Meters
GAUGE: Varies per your needle size
NEEDLES: #3-9 US
CARE: Hand wash cold. Lay flat to dry. Or dry clean.
---
BEADED SILK & SEQUINS LIGHT SPECS
FIBER: 100% Silk with Beads & Sequins
YARDAGE: 50 grams / 100 meters/110 yards
GAUGE: 5 Stitches per inch on #6
CARE: Dry clean or hand wash / AIR DRY LAYING FLAT
---
RHAPSODY LIGHT SPECS
FIBER: 85% Silk/15% Mohair
YARDAGE: 80 grams / 366 meters / 400 Yards
GAUGE: Official Gauge: 5 Stitches per inch on #US6 Needle. It may be used on smaller needles as a fingering weight for a tighter gauge, or on much larger needles for an openwork, lacey look.
SOURCE: HAND-dyed in the US from imported japanese silk & kid mohair
CARE: dry clean/handwash| AIR DRY LAYING FLAT
---
CASHMERE 2-PLY SPECS
FIBER: 100% ITALIAN CASHMERE
LENGTH: 738 YDS / 675 M/ 150 GRAMS
GAUGE: US5 - 9 Needles GAUGE will vary depending upon Needle size and Pattern
SOURCE: HAND-dyed in the US from 100% italian cashmere
CARE: dry clean/handwash | AIR DRY LAYING FLAT
---
CASHMERE 5 SPECS
FIBER: 100% Pure Italian Cashmere
weight/yardage: 5 Ply worsted: 50 gm/102 Yds
GAUGE: 4.5 sts = 1 in on US 7
SOURCE: HAND-dyed in the US from 100% italian cashmere
CARE: dry clean/handwash | AIR DRY LAYING FLAT
---
ENSEMBLE LIGHT SPECS
FIBER: 50% Silk/50% Cashmere
LENGTH: 400 Yards, 80 Grams
GAUGE: 5 st per inch on US 6 (Fingering/Very Light DK weight yarn)
SOURCE: HAND-MADE in the US from imported japanese silk and italian cashmere
CARE: Dry Clean or very, very gentle hand wash
---
SILK DREAM(Glitter)/Silk Dream
FIBER: 100% Silk fingering, handpainted in 2 plies with a single ply of glitter
YARDAGE: 400 Yards / 90 Grams
GAUGE: Size US3 Needles 7 Stitches per inch/9 Rows per inch. Weight: Super Fine (1ace). Dryclean/Normal/Do Not Iron
SOURCE: HAND-MADE in the US from imported japanese silk
CARE: dry clean/handwash. AIR DRY LAYING FLAT. Do Not Iron
---
Eco Cashmere specs
FIBER: 50% Recycled + 50% Virgin Italian Cashmere
YARDAGE: 164 Yards / 150 Meters / 50 Grams
GAUGE: Size US6-7 4-4.5mm 3-5 Stitches per inch/2.5cm. Weight: DK
SOURCE: HAND-MADE in the US from imported japanese silk
CARE: dry clean/handwash. AIR DRY LAYING FLAT. Do Not Iron