This month's exclusive National Park color: White Sands
This month in 7 fabulous fibers!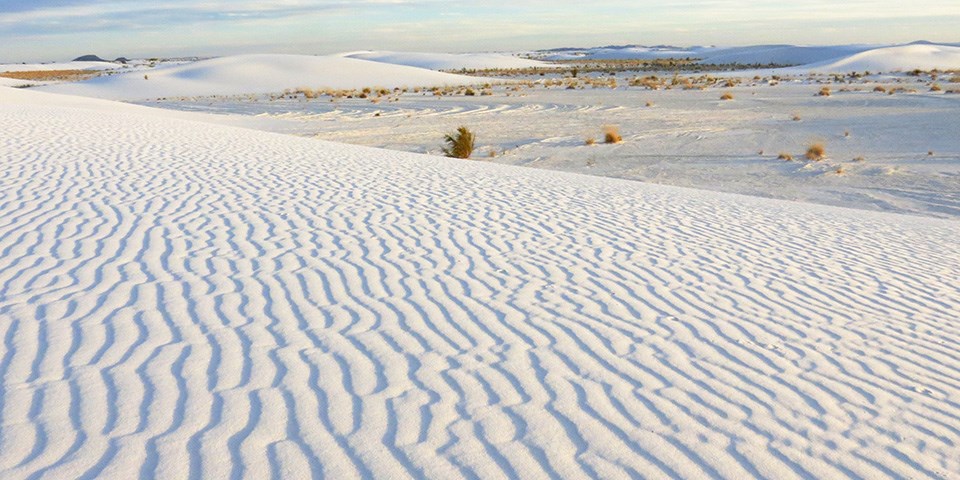 Rising from the heart of the Tularosa Basin is one of the world's great natural wonders, the glistening white sands of New Mexico. Great wave-like dunes of gypsum sand have engulfed 275 square miles of desert. White Sands National Park preserves a major portion of this unique dunefield, along with the plants and animals that live there.
---
Only at Fab: Exclusive series of colorways inspired by and dedicated to America's Glorious Legacy of National Parks
Our national parks welcome millions of visitors every year with their fabulous visual inspirations... But they are struggling! Under funding cuts as well as threats from logging, oil and gas drilling, our national parks need our help! With every purchase, Artyarns will make a donation to the National Park Service.
ARTYARNS NATIONAL PARK COLOR | White Sands
---
WHITE SANDS PARTNER COLORS
Free pattern with your National Parks Purchase of White Sands!
MERINO CLOUD SPECS
FIBER: 80% Fine Merino 20% Cashmere
LENGTH: 437 yards/400 meters/100g
GAUGE: 5.5 sts = 1 inch (FINGERING/LIGHT DK) on US 5 Needles
SOURCE: Italian Merino & Cashmere
CARE: Dry clean or hand wash with AIR DRY LAYING FLAT
---
silk mohair 2-ply specs
FIBER: 60% Super Soft Kid Mohair/40% Silk
YARDAGE: 43+ Grams / 620 Yds / 567 Meters
GAUGE: Varies per your needle size
NEEDLES: #3-9 US
CARE: Hand wash cold. Lay flat to dry. Or dry clean.
---
BEADED SILK & SEQUINS LIGHT SPECS
FIBER: 100% Silk with Beads & Sequins
YARDAGE: 50 grams / 100 meters/110 yards
GAUGE: 5 Stitches per inch on #6
CARE: Dry clean or hand wash / AIR DRY LAYING FLAT
---
RHAPSODY LIGHT SPECS
FIBER: 85% Silk/15% Mohair
YARDAGE: 80 grams / 366 meters / 400 Yards
GAUGE: Official Gauge: 5 Stitches per inch on #US6 Needle. It may be used on smaller needles as a fingering weight for a tighter gauge, or on much larger needles for an openwork, lacey look.
SOURCE: HAND-dyed in the US from imported japanese silk & kid mohair
CARE: dry clean/handwash| AIR DRY LAYING FLAT
---
CASHMERE 2-PLY SPECS
FIBER: 100% ITALIAN CASHMERE
LENGTH: 738 YDS / 675 M/ 150 GRAMS
GAUGE: US5 - 9 Needles GAUGE will vary depending upon Needle size and Pattern
SOURCE: HAND-dyed in the US from 100% italian cashmere
CARE: dry clean/handwash | AIR DRY LAYING FLAT
---
CASHMERE 5 SPECS
FIBER: 100% Pure Italian Cashmere
weight/yardage: 5 Ply worsted: 50 gm/102 Yds
GAUGE: 4.5 sts = 1 in on US 7
SOURCE: HAND-dyed in the US from 100% italian cashmere
CARE: dry clean/handwash | AIR DRY LAYING FLAT
---
ENSEMBLE LIGHT SPECS
FIBER: 50% Silk/50% Cashmere
LENGTH: 400 Yards, 80 Grams
GAUGE: 5 st per inch on US 6 (Fingering/Very Light DK weight yarn)
SOURCE: HAND-MADE in the US from imported japanese silk and italian cashmere
CARE: Dry Clean or very, very gentle hand wash
---
SILK DREAM(Glitter)/Silk Dream
FIBER: 100% Silk fingering, handpainted in 2 plies with a single ply of glitter
YARDAGE: 400 Yards / 90 Grams
GAUGE: Size US3 Needles 7 Stitches per inch/9 Rows per inch. Weight: Super Fine (1ace). Dryclean/Normal/Do Not Iron
SOURCE: HAND-MADE in the US from imported japanese silk
CARE: dry clean/handwash. AIR DRY LAYING FLAT. Do Not Iron
---
Eco Cashmere specs
FIBER: 50% Recycled + 50% Virgin Italian Cashmere
YARDAGE: 164 Yards / 150 Meters / 50 Grams
GAUGE: Size US6-7 4-4.5mm 3-5 Stitches per inch/2.5cm. Weight: DK
SOURCE: HAND-MADE in the US from imported japanese silk
CARE: dry clean/handwash. AIR DRY LAYING FLAT. Do Not Iron