Knitters pride has come out with a nickel plated brass version of its incredibly popular Cubics set. This set boasts 7 tips, cords, connectors and a case. Dont' forget to add a fabulous Della Q Case to carry this set in STYLE!
This set is great with the Della Q Interchangeable Travel wallet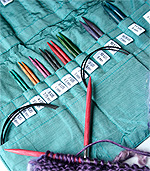 The della 180 will hold one set of these fabulous interchangeable needle sets - the 190 will hold two sets - of any sets - Addi, Dreamz, Cubics or Novas!