OOOOOOOHhhhh Addi Clicks - everything we need, all in one place!

Tip Sizes
Cords/Accessories
* 3.5mm (US #4)
* 3.75mm (US #5)
* 4.0mm (US #6)
* 4.5mm (US #7)
* 5.0mm (US #8)
* 5.5mm (US #9)
* 6.0mm (US #10)
* 8.0mm (US #11)
* 9.0mm (US #13)
* 10.0mm (US #15)
3 Cords:
* 60 cm (24 inch)
* 80 cm (32 inch)
* 100 cm (40 inch)
1 Connector
Gold Addi Heart Pin
Needle Size Gauge Carrying
Case
Addi Turbo CLICK Basic Set
$135.92 after fab discounts
(reg $169.90 ) + Free Shipping (US)
Discounts will apply at checkout


The basic set - 10 Tips from US 4 - 15, 3 cords, a connector, Needle Gauge, and carry case all make up this most excellent of sets. Plus, these tips work with any of the Addi Cords or tips from the other sets as well!

Don't forget to add some extra tips or extra cords for your ADDI Basic set!


Giving in to the Addi Turbo Legend!
The addi Turbo® Click system provides 10 different sizes of addi Turbo® tips (3.5mm, 3.75mm, 4.0mm, 4.5mm, 5.0mm, 5.5mm, 6.0mm, 8.0mm, 9.0mm, and 10.0mm), three different lengths of our new, extremely pliable blue cord (24", 32" and 40"), and one connector piece which helps to either store stitches or combine your cords. The Click tips require no tools to change; simply insert the cord deep into the tip, twist and release. The tips will remain secure until you change them, thanks to the Click's revolutionary locking mechanism!

Addi CLICK LACE Interchangeable Needle Set


(Sharp Lace tips, Shorter Length)

Addi Lace
Long-Tip
Interchangeables


(Sharp Lace Tip, longer for knitting comfort)

Addi CLICK Bamboo (Natura)


(Soft & Comfortable Bamboo tip)



ADDI CLICK tips (Lace, Bamboo and Basic/Regular Tips for your ADDI Sets)
ADDI CLICK Cords & Connectors
ADDI CLICK Heartstopper Endcaps.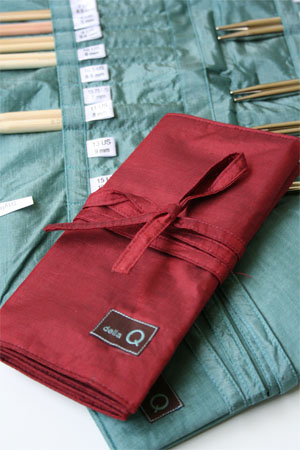 Della Q's Interchangeable Needle cases! Smart!

Offhand Designs brocades and flocked velvets are a fabulous way to tuck your interchangeables into whatever bag you happen to be carrying.