Tip Sizes
Cords/Accessories

9 tips:
* US #4
* US #5
* US #6
* US #7
* US #8
* US #9
* US #10
* US #10.5
* US #11

4 Cords:
* 1 24 inch)
* 2 x (32 inch)
* 1 x 40 inch)
Size Markers
Cord Case
8 End Caps
4 Cord Keys
Melody Accessory Pouch (!)
2 Pairs of lovely Symfonie wood Earrings!

$68

or less after fab discounts


(MSRP) $85.00
Just in time for the holidays! Knitters Pride has released the new Melodies Needles gift set - this set is incredible, coming with 9 tips (4 - 11, includes a 10.5) in their fabulous ZING anodized brushed aluminum. Gorgeous to look at! In a beautiful gift box with cords and a fabulous melody-embroidered Accessory Pouch. Included are a set of beautiful earrings made out of Symfonie wood - the wood featured in so many of Knitters Pride Needles!




_________________
Buying this for a gift? Add Gift Wrap! We include a custom-made card!

Gift wrap may also be added at checkout!

How tips look in the Della Q Wallet!

Want to dress up your Paris Special Editions? Try a Della Q or Offhand Design SWITCH cases!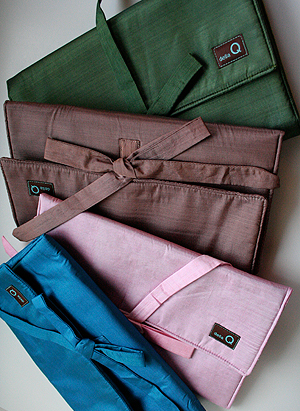 Della Q's cases in pure silk protect your needles in style.

Offhand Designs brocades and flocked velvets are a fabulous way to tuck your interchangeables into whatever bag you happen to be carrying.