$108-324 before discounts applied at checkout + Free Shipping (US)
---
Materials: 1-3 SkeinS of Merino cloud + 1-3 skeinS of Ensemble Light
---
Sizing: Small/Medium (Bust 36"- 40) Large/1x (Bust 44"- 48) 2x Bust (BUST 52")
---
From the Knitalong, this Stunning Top is based on the 2020 Knitalong Shawl, also designed by Iris Shreier. Full of interesting curves and patterns, just the thing to tickle your color yearnings! This is an intermediate project, sized with different yardage requirements by size. Optional: Add a skein of Beaded Silk Sequins Light for a little sparkly detail on the sleeves or neckline! Don't want a top - this pattern comes in a SHAWL kit!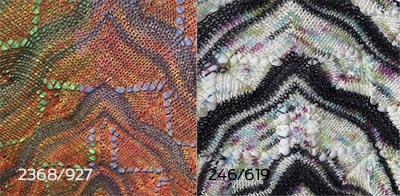 Left, Detail of MC-2368/ENL-925. Right, detail of MC-246 Black/ENL-619 Lilies & Limes.
Kit Color Combo choices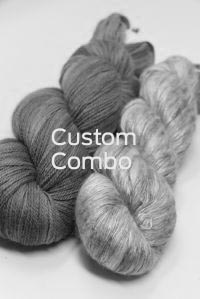 Custom colors (Merino Cloud/Ensemble Light)
Curved Triangle Shawl/TOP SPECS
INCLUDES:
Shawl: 2 Skeins: 1 Merino Cloud + 1 Ensemble Light
Top: 2 - 3 Skeins each of Merino Cloud and 2 - 3 Skeins of Ensemble Light depending upon size
FIBER/LENGTH Merino Cloud: 80% Fine Merino 20% Cashmere | 437 YARDS/100G
FIBER/LENGTH Ensemble Light: 50% SILK/50% CASHMERE | 400 YARDS/80 GRAMS
NEEDLE: Suggested Needle for this project is a US7 Circular length 40 to 60"
CARE: Handwash lay flat to dry