$59.20 or less with Discounts applied at checkout (Reg $74) + FREE U.S. SHIPPING over $75!
---
Special orders subject to availability: Most ship in 7-10 days, but can take longer depending upon drying time—we appreciate your patience! 2 skein Minimum order.
---
Back to main ARTYARNS Silk DREAM PAGE
---
FIBER: 100% SILK FINGERING, HANDPAINTED IN 2 PLIES
LENGTH: 400 Yards/90 Grams
GAUGE: 7 St/in/ or 9 Rows/in on US3 Needles

Artyarns Silk Day Dream
FIBER: 100% Silk, lace/fingering weight
LENGTH: 400 Yards/90 Grams
GAUGE: Size US3 Needles 7 Stitches/9 Rows per inch
SOURCE: HAND-MADE in the US from japanese silk
CARE: Dry Clean/Handwash. AIR DRY LAYING FLAT. Do Not Iron
---
Silk Dream & Silk Day Dream patterns:
free download w/ Silk Dream/Day Dream Purchase!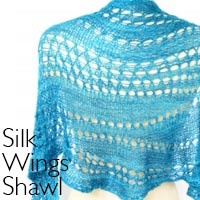 SILK WINGS SHAWL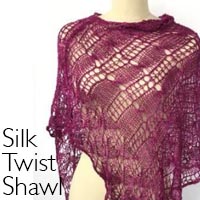 SILK TWIST SHAWL