$59.20 or less with Discounts applied at checkout (Reg $74) + FREE U.S. SHIPPING over $75!
(Avail: )
---
The second of three variations called Black Not Black (what you can get when dyeing black yan, but let the colors that make up black in a dyebatch show through) 1038 Black Not Black is an earthy blend of Deep Navyindigo, browns, and greens all coming thru a wonderful charcoal base.
FIBER: 100% Silk, 2 ply fingering
YARDAGE: 400 Yards/90 Grams
GAUGE: 7 St/9 ROWS per inch ON US3 Needles
Artyarns Silk Day Dream
This 2 Ply silk is the same beautiful yarn as Silk Dream, sans glitter, for the silk purist!
FIBER: 100% Silk Lace, 2 ply LACE/fingering
LENGTH: 400 Yards/90 Grams
GAUGE: Size US3 Needles 7 Stitches/9 Rows per inch
SOURCE: HAND-MADE in the US from japanese silk
CARE: Dry Clean/Handwash. AIR DRY LAYING FLAT. Do Not Iron
---
Silk Dream & Silk Day Dream patterns:
free download w/ Silk Dream/Day Dream Purchase!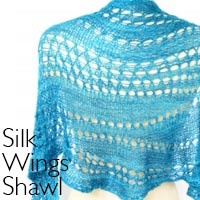 SILK WINGS SHAWL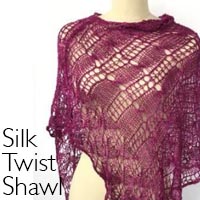 SILK TWIST SHAWL