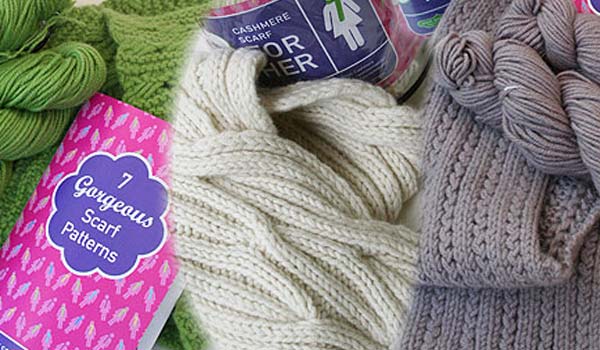 $112.00 after FAB Discounts (Reg $140 includes 4 skeins + 7 Patterns) Discounts will be applied at checkout. Free Shipping!
---
Holiday project/gift idea problem solved! This fab kit Gift-Ready in a clear box so you can see the yarn and pattern book. The kit contains four skeins of specially made cashmere, enough beautiful, ultra-soft, luxurious cashmere to knit up one of 7 included lovely scarf patterns. Choose from eight colorways in this specially spun cashmere for an elegant, perfectly delicious scarf. Great kit for your favorite knitter, or yourself!
Each kit comes with enough yarn to make one scarf, but the patterns can be used with other yarns and other jade fibers... and you can mix them up too!
JADE SAPPHIRE CASHMERE SCARF FOR HER
INCLUDES: 4 skeins of cashmere yarn, drawstring gift bag/tote and card with 7 pattern options
FIBER: 100% Hand Dyed Cashmere Yarn; 350 Yards/200 grams/4 Skeins
NEEDLE SIZE: US 8-10
GAUGE: 4.5-5.5 St inch
CARE: Hand Wash cold or dry clean