$29.60 after discounts (Reg $37/Discounts applied at checkout)
---
FIBER: 55% Silk + 45% Mongolian Cashmere
YARDAGE: 400 Yds/55 Gm
GAUGE/NEEDLE: Lace | Needle Size: 1-4 | 6-8 Stitches/inch
---
Soft and lovely silk/cashmere 2 ply laceweight will make the most of all your lace fantasies! In 55% Silk and 45% Cashmere, this lace is extra soft and squooshy, and the 2 ply gives you extra stitch definition right where you need it. Scrumptious. This is the finest cashmere fiber available, sourced high in the Mongolian mountains and hand-dyed—heirloom quality yarn.
Check out great projects for Jade 2 ply Cashmere Silk at Ravelry.
---
SPECIAL ORDER: Need a color or amount we don't have? Special order Jade 2 ply Cashmere Silk Lace. regular stock item: order what you need and we'll ship your in 7-10 days per availablity at Jade.
Jade 2 ply lace cashmere patterns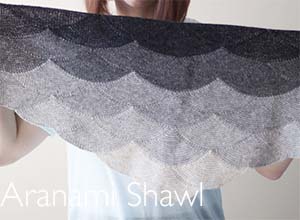 The Aranami Shawl requires 5 colors of Jade 2 ply lace. Price $7.00. See Ravelry for more Jade Sapphire 2 Ply Silk Cashmere Projects!