$37.60 after discounts (Reg $47/Discounts applied at checkout)
---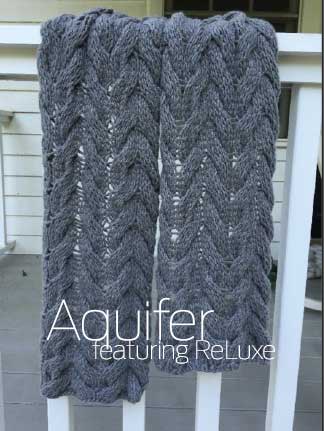 Jade Sapphire ReLuxe... Beautiful recycled, yarn from re-purpused cashmere sweateres, unraveled, unspun, then reprocessed, dyed and respun into this beautiful, soft lovely aran-weight cashmere. You'll be wearing Armani, Versace, Missoni—but they'll never know!
FREE download with your purchase: The Aquifer Scarf (left) featuring ReLuxe from Jade Sapphire requires 2 skeins of ReLuxe.
Need a color or amount we don't have? Special order Jade ReLuxe Cashmere. This is a regular stock item: If we are low, you may order what you need and we'll get your colors shipped out in a week to 10 days depending on stock availablity at Jade Sapphire.
Jade Sapphire Reluxe Recycled 100% Cashmere
FIBER: 100% Recycled Italian Cashmere
LENGTH/WEIGHT: Approx 142 Yards/100 Grams
GAUGE/NEEDLE: Bulky Worsted/Aran weight | Needle Size: US 10.5 | 3.5 Stitches/inch
CARE: Dry clean or hand wash with AIR DRY LAYING FLAT