$29.60 after discounts (Reg $37/Discounts applied at checkout)
(Avail: )
---
This gorgeous, beautiful slate with a touch of blue in it will sparkle on your shoulders. Great for patterning, of course, but stunning just in stockinette because of the wonderful tonals in this cashmere silk lace yarn!
---
Jade Sapphire 2 Ply Lace Silk Cashmere Specs
FIBER: 55% Silk + 45% Mongolian Cashmere
LENGTH/WEIGHT: 400 Yards/55 Grams
GAUGE/NEEDLE: Lace | Needle Size: 1-4 | 6-8 Stitches/inch
SOURCE: 100% Mongolian Cashmere
CARE: Dry clean or hand wash with AIR DRY LAYING FLAT
Jade 2 ply lace cashmere patterns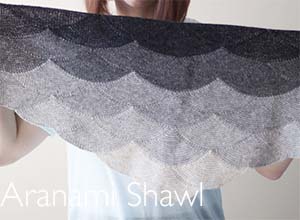 The Aranami Shawl requires 5 colors of Jade 2 ply lace. Price $7.00. See Ravelry for more Jade Sapphire 2 Ply Silk Cashmere Projects!