$29.60 after discounts (Reg $37/Discounts applied at checkout)
(Avail: )
---
An astonishing translucent green 2 ply lace yarn that is slinky, light and lovely! It really does look like the old Coke bottles after they've been in the ocean for a long, long time. The perfect name for this fabulous lace cashmere yarn!
---
FIBER: 55% Silk + 45% Mongolian Cashmere
LENGTH/WEIGHT: 400 Yards/55 Grams
GAUGE/NEEDLE: Lace | Needle Size: 1-4 | 6-8 Stitches/inch
SOURCE: 100% Mongolian Cashmere
CARE: Dry clean or hand wash with AIR DRY LAYING FLAT
---
Please note: This is a stock item and you may order more than we have - your order will be custom rush dyed and ship out within a week to 10 days.

To special order a color not shown, please use our special order page: SILK CASHMERE SPECIAL ORDER
Jade 2 ply lace cashmere patterns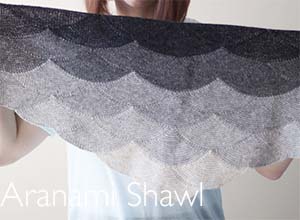 The Aranami Shawl requires 5 colors of Jade 2 ply lace. Price $7.00. See Ravelry for more Jade Sapphire 2 Ply Silk Cashmere Projects!