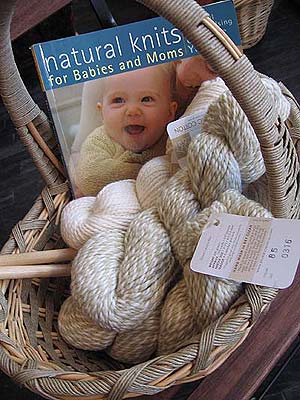 I hear a lot of things that knitters say about yarn, and one of the things that I hear about most is going organic. Natural. chemical-free. This basket will give any knitter a chance to knit with an incredible organic yarn: Blue Sky Cotton. Choose a size (4/6/8 Skeins), a set of patterns tailored to the size of basket you buy (hat/booty for the small kit, sweater for the larger kit) or a book that includes lots of patterns for this yarn (Louisa Harding's Natural Knits for Babies and Moms) add Needles if you wish, and some beautiful stitch markers, and you've got a beautiful, thoughtful and environmentally friendly gift. Plus, you get our great Gift wrap, and custom card. A great gift for new or expecting moms, vegans, or just anyone who loves natural fibers! And it makes a wonderful Baby Shower Gift!

Our beautiful organic cotton gift basket- 4 - 8 skeins in a beautiful gift basket. Add needles & stitch markers, patterns or the patterns from natural knits - included in this set. Or pick another book from our selection and we'll bundle it all up together. Includes gift wrap with a custom card. A beautiful gift basket for any organic yarn fan, especially great for new or expecting moms!

$75 - $225- It's up to you - Build it right here!



Shipping note: due to their bulky size, gift baskets DO NOT ALWAYS qualify for our $5.40 flat rate shipping. Your rate will depend on your desination. Generally, in the northeast we can do priority for $5.40, but most other states will require Parcel Post shipping, and that can be up to 9 days, so please pick the shipping method that makes your date deadlines!