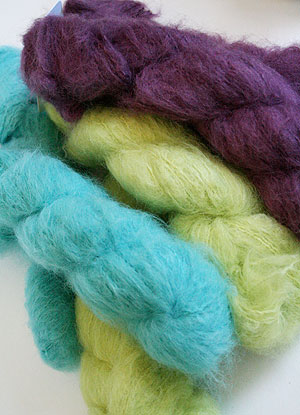 $13.44 or less After Fab Discounts at Checkout (Reg $16.80).
Blue Sky Fibers has created an amazing yarn with Brushed Suri. Soft, brushed fibers in soft and luxurious colors... and this yarn, for all it's 'fuzzz' is so not itchy. It's like bunny fur, without the bunny. A great alternative to mohair, and the added pizazz of the bamboo gives it an extra silky touch. Lovely. An incredibly soft brushed knitting yarn that glows with luxury: soft, not itchy at all, with an extra silky feel. The added touch of bamboo makes it extra silky and unique.
BLUE SKY FIBERS BRUSHED SURI:
Ultra soft baby suri alpaca, merino wool, & bamboo
FIBER: 67% Baby Suri/22% Merino/11% bamboo
WEIGHT:50 grams
LENGTH:142 yards/130 meters
GAUGE: 3.5-6 stitches per inch: A suggested gauge only. Works beautifully with large or small needles.
NEEDLE SIZE: 4-11 US
CARE: Dry clean or hand wash in tepid water using a mild soap. Do not agitate or twist. Shape and dry flat on a towel.