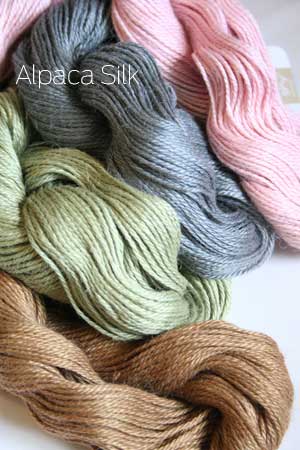 $13.60 or less After Fab Discounts at Checkout (Reg $17.00).
Blue Sky Alpacas Alpaca and Silk yarn—a beautiful 50/50 blend of alpaca and silk. A delightful, shimmery, lightweight yarn that shows the best of both fibers. The soft, pure alpaca yarn, for lightness and warmth, the silk for sparkle, sheen and depth of color and of course, done color palettes that Blue Sky Alpacas is famous for—from natural, to jewel brights, to pastels With Blue Sky Alpacas, it's pretty much guaranteed—you will find something to knit—and to love.
ALPACA SILK DISCONTINUED COLORS:
LIMITED STOCK!
BLUE SKY FIBERS ALPACA SILK
FIBER: 50% Alpaca / 50% Silk
WEIGHT:50 grams
LENGTH:146 yards/133 meters
GAUGE: 5-6 sts per inch / 2.5cm * Suggested gauge only. Works beautifully with large or small needles.
NEEDLE SIZE: 3-5 US / 3.25-3.75mm
CARE: Dry clean or hand wash in tepid water using a mild soap. Do not agitate or twist. Shape and dry flat on a towel.
BLUE SKY ALPACA SILK PATTERNS