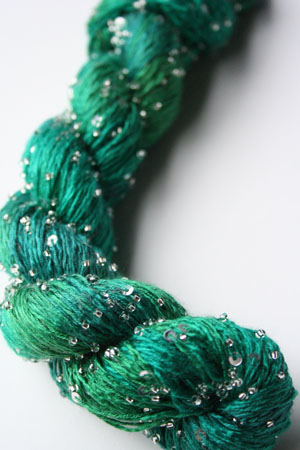 $64 or less + FREE SHIPPING
(20-25% Instant Discounts will Apply at Checkout)
FIBER: 100% Silk with Beads & Sequins (Silver, Gold, Gunmetal)
LENGTH: 50 grams 100 meters/110 yards
GAUGE: 5 Stitches per inch on #6
---
Ok, well, you know - the glowing, emerald, shiny beautiful city in OZ. Yup. This is what Glenda should have been wearing!
This is a stock item. You may order beyond what is in stock and your order will be custom dyed and ship in 5 - 7 days. You may also special order any color of Artyarns Beaded Silk & Sequins Light: BEADED SILK AND SEQUINS SPECIAL ORDER PAGE
Artyarns Beaded Silk & Sequins Light
Artyarns most sparkly yarn to date - beaded silk with sequins Light! 110 Yards of beaded and sequins love. Crisp, shiny - wonderful for lightweight shawls or even crocheted jewelry- this is a stunning choice for any project! And with every purchase - a free pattern Ebook with 7 Gorgeous Patterns for this yarn!
---
FIBER:100% Silk with Beads & Sequins (Silver, Gold, Gunmetal)
LENGTH: 50 grams 100 meters/110 yards
GAUGE: 5 Stitches per inch on #6 (Suggested Gauge Only - this yarn works up wonderfully on any size needle, depending upon the effect you are after. For needle size, we recommend checking the project and testing your gauge to make sure you get the right feel with this yarn)
SOURCE: HAND-MADE in the US from imported japanese silk
CARE: dry clean/handwash| AIR DRY LAYING FLAT
Projects for Artyarns Beaded Silk & Sequins Light Yarn