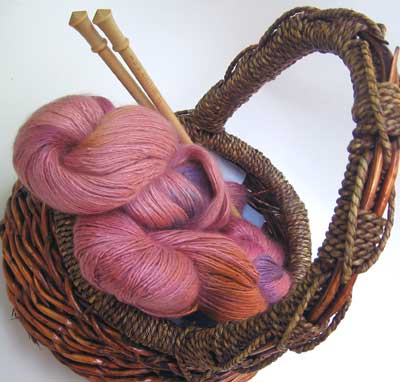 Our beautiful basket shows two skeins of Silk Rhapsody Mohair in 112 Old Fashioned Roses. Complete luxury.

$85-253 (Before fab discounts)


There's no superlative too great for this yarn. A knitting gift made of yarn spun of silk and mohair, handpainted yarn is the apex of luxury yarns. A thick silk core spun with a strand of delicate mohair, gives this yarn both lustre and hand, and a halo that makes it look as heavenly as it feels. If you want ULTRA-SPECIAL, this is it. In three sizes, Classy, Luxe, and DeLuxe, there is enough rhapsody in each to do a variety of projects, from a small neck scarf to a shawl.
Included are an Artyarns shawl pattern, needles, and gift wrap.



2217
(One+One)
279
(One+One)
182
Jewel

173 Harvest

164
The Queen

167 Oyster & Pearl

1005 Stormy

179 Twilight

2289
Plum

171 Collegiate

195
Hot Cha Cha

193 Summer Fruit

191 Blue Sage

205 Ice

289 Deep
Plum
Sunset


9 skeins

102 Mexico
4 skeins

103 Peppers
6 skeins

104 Grassy Greens

5 skeins

130 Pink Choc.
9 skeins
107 Azure
10 skeins
108 Purple Mist


8 skeins

111 Hot Pinks
10 skeins
115 Marguerita
6 skeins
146 Circus
5 skeins
109 Pink Lilacs
9 skeins
114 India
5 skeins
119 Forest
8 skeins
106 Sea Greens
6 skeins
144 Silver (4)
112 Roses
9 skeins

105 Dawn
4 sk

117 B&W
9 sk
123 Lagoon ) 1 9 Skein
143 Blue Taupe 10 skeins
Spring 127 (8)
Orange Cocoa
141 (8)
138 Purple Royale (11)
110 Flamingo (10)
133 Ferns
(9)
137 Cappucino 8 skeins
134 Sunshine
9 skeins