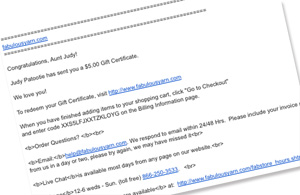 In a hurry? Our fabulous new instant delivery is truly instant—ithin minutes of your purchase, your recipient gets an email with your note and a code they can use RIGHT AWAY! No waiting, no muss, no fuss. This is delivered thru an email that contains only text, so it gets by almost any spam filter or security filter.
You will use our automated online system to generate a secure code that is sent by email instantly. Want to print it out and put it under the tree? Send it to yourself and print it!
fabyarn Instant Email Gift Certificate
Delivered Instantly via Email
Send any amount $1-1000
Arrives In seconds, ready to use!
May be sent to any email address
May be forwarded
No shipping Charge!