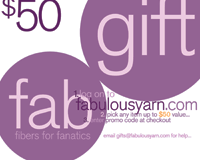 Deliver your gift message with style with a Fabulous Yarn custom personalized Gift Certificate—delivered via email as a PDF attachment with 24-48 Hours.
What better than a chance to shop for yarn without spending a dime? A gift certificate from fabulousyarn lets your favorite knitter do what they like best—shop for and find great yarn. It's a great knitting gift for any level of knitter. Add a pattern or two from our patterns page, to really get them going? Or a great pair of Knitting Needles... PERFECT!
Simply choose how much you want to spend, type in your gift message—we customize a card with your message and email it to your knitter.
Digital custom emailed certificate
PDF Delivered via email by FAB in 24/48 hours (rush is available)
(email delivery within 24-48 hours)
May be used online and in-store
No shipping Charge!
Requires Acrobat Reader, already installed on most devices
Remember to include your name so they know who it's from!