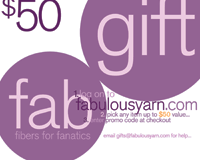 Indulge your favorite knitter with a beautifully wrapped custom card personalized with your own message and knitter's name! May be used online or in-store. If you're not sure if they're web-savvy or if you just want to give them something to hold, this Printed Gift Certificate is the answer: delivered via US Mail or UPS and includes instructions on its use.
A gift certificate from fabulousyarn lets your favorite knitter do what they like best—shop for and find great yarn... a great knitting gift for any level of knitter. Add a pattern or two from our patterns page, to really get them going... or a great pair of Knitting Needles... PERFECT!
Simply choose how much you want to spend, type in your gift message—we customize a card with your message, gift wrap it and mail it to your knitter. Yes! You can add this gift certificate to another gift purchase (like a fab gift basket!) and we'll wrap it all up and send to your knitter.
custom printed & mailed certificate
Can be shipped to you or your recipient
USPS Priority Mail 2-3 day shipping for under $5
May be used online and in-store
Includes gift wrap
Remember to include your name so they know who it's from!