$43
Discounts apply to this item at checkout Signup for the knitlist to receive an extra 5% off.
Uses one skein beaded silk light.
(at the top of any page)
This is a great, dramatic openwork pattern - it can be very witchy, or very rock and roll, as my daughter demonstrated by wearing it as a neckwrap!
| | |
| --- | --- |
| Need Help Ordering? Click to chat or email us. | |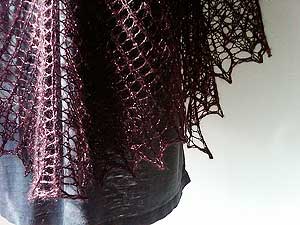 Check out the new Rhapsody Glitter Light - in the wonderful design by Deborah Glazer:
Boleyn Shawl.