From $8.50 After Fab Discounts (Reg $10.50-15.00) Order by the Pair or a whole set! Please note prices shown in pulldowns below are BEFORE discounts. Discounts APPLIED at Checkout.
---
---
---
note: stock item, if you need more than we have on hand, go ahead and order and we'll get your needles out to you within a few days.
See also: BRITTANY BIRCH knitting needles Doublepoint Needles
ADD A CASE FOR YOUR BRITTANYs: DELLA Q SINGLE POINT ROLL UP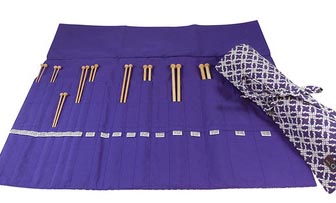 Della Q's Single point rollup is the perfect carry-all for your single points. With 19 Labeled pockets, it keeps all your single points organized!
Brittany Birch Single Point Needles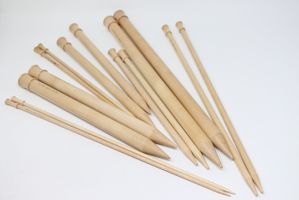 Gorgeous Brittany Single Point Knitting Needles in sizes 2 - 35 in two lengths - 10" & 14". Sustainably harvested USA-grown birch wood with a wonderfully smooth organic finish.
---
Benefits of wooden knitting needles
Wood is warm, smooth and soft. It won't drain heat from sensitive fingers the way aluminum and plastic needles do. We have many comments from arthritis patients and their doctors that they wouldn't be knitting if it weren't for wooden needles.
The warmth and smoothness of hardwood nurtures sensitive fingers and provides natural strength and consistency for a lasting product. Birch is a superior wood for this purpose, its tensile strength and stability maintains size, resists warping and allows for an extremely smooth surface. It is lightweight so the needles won't fall out of your knitting yet Brittany's special finish provides for one of the slickest needles on the market.
Wood is our greatest renewable natural resource. It is environmentally friendly; it's recyclable, biodegradable and durable; when it is no longer needed it can be returned to the earth.
MORE BRITTANY NEEDLES