From $7.20 to 10.00 After Fab Discounts (Reg $9-11) Order a SINGLE SET OF 5 or whole collection! prices shown in pulldowns below are BEFORE discounts: Discounts APPLIED at Checkout.
---
---
---
---
note: Brittany needles are stock items: if you need more than we have on hand, go ahead and order and we'll get your needles out to you within a few days.
See also: BRITTANY BIRCH Singlepoint knitting needles and CLOVER WOODEN CIRCULAR NEEDLES: GREAT FOR large projects like afghans and blankets and also Crochet Hooks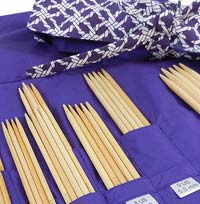 GREAT CASE FOR BRITTANYs: DELLA Q DOUBLE POINT ROLL UP
Della Q's Double point rollup is the perfect carry-all for your single points. This tidy rollup has 2 rows of fourteen pockets with both US and metric size labels. It will hold double points up to 8" long.
Brittany Birch Double Point Needles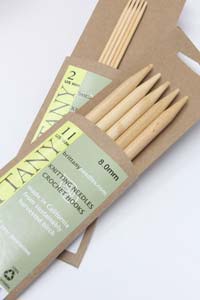 Good, durable and easy-on-the hand Double Point Knitting needles are absolutely critical for all sorts of projects, and we carry them in all standard knitting needle sizes, and even up to extra bulky knitting needle sizes, in three lengths. Makes socks, hats and sleeves zoom by without uneccessary slippage. The larger needle lengths and sizes are great for knitting bulky sweaters in the round, eliminating seaming.
Why Brittany? Besides the great value, one of the best reasons is the benefit of wood: warm, smooth and soft, it won't drain heat from sensitive fingers the way aluminum and plastic needles do. We have many comments from arthritis patients and their doctors that they wouldn't be knitting if it weren't for wooden needles!
MORE BRITTANY NEEDLES