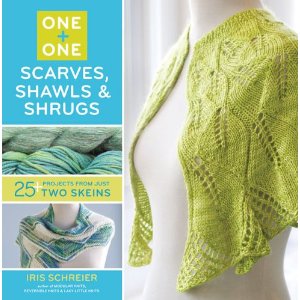 Paperback: 132 pages
Publisher: Lark Crafts (March 6, 2012)
Language: English
$17
(discountable)


One + One = Two skeins! That's all it takes to make any of these 25 breathtaking knitted accessories. Scarves, Shawls & Shrugs is the first in a new series by renowned designer Iris Schreier that showcases the many possibilities of working with just two skeins of yarn. Mixing yarn types, weights, and colors, she presents a dazzling array of stylish and sophisticated wraps. Schreier created about half the projects herself, while other prominent designers provided the rest.

The projects range from easy to unique and offer new ideas for blending yarns and creating pieces with high appeal, beautiful drape, and practical functionality.

Love the projects in this book? Check them out here - we've built a kit for every single project!






You can make this a gift at checkout! Just check 'make it a gift'....pick wrapping and give us your custom message, and you're done!