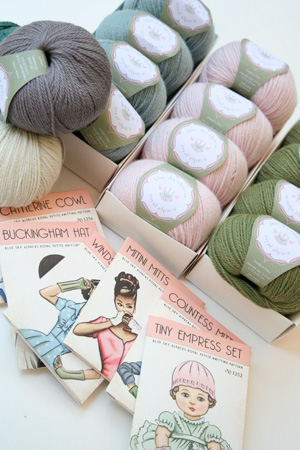 $11.60 or less—after Fab Discounts at Checkout (Reg $14.50).
---
Royal Petites: small little bundles of the most delightful alpaca you've ever touched! With the same exquisite color palette, twist, and hand as Blue Sky's full size hanks of Royal Alpaca, the petites are 100-yard balls geared towards smaller projects. All with 100% Royal Alpaca—the finest grade alpaca yarn available.
Plus: see below for lovely vintage-looking illustrated pattern kits: two balls and a pattern for $36— great gift idea!
BLUE SKY FIBERS ROYAL PETITES
FIBER: 100% Pure Superfine Alpaca Grade AAA: Royal Alpaca
WEIGHT/length: 35 grams Approx: 100 yards/92 meters
GAUGE: 6-7 sts per inch/2.5cm *A suggested gauge only. Works beautifully with large or small needles
NEEDLE SIZE: 2-3 US/2.75-3.25mm
CARE: Dry clean or hand wash in tepid water using a mild soap. Do not agitate or twist. Shape and dry flat on a towel.
BLUE SKY PATTERNS
| ROYAL PETITES YARN + PATTERN KITS:
2 yarn balls + pattern for $36: great gift idea!