$51.80 30% off SALE - NO FURTHER DISCOUNTS on this closeout yarn (Reg: $74) + Free U.S. Shipping over $75
(Avail: )
---
Really - pure gold, in all kinds of TONE from a dark, gorgeous wheat to bright yellow to pale gold. Already spun! :)
---
FIBER: 100% Silk Fingering, handpainted in 2 plies with a single ply of glitter
LENGTH: 400 Yards/90 Grams
GAUGE: lace/fingering / US3 Needles: 7 St per inch/9 Rows per inch
---
This is a discontinued item and we can no longer special order it! Sorry! Please see SILK DAYDREAM for a wonderful 2 ply fingering silk handpainted by ARTYARNS!
Artyarns Silk Dream (Silk with Glitter)
This 2 Ply silk with glitter offers a pure, non-animal fiber luxury yarn with a hint of sparkle.
FIBER: 100% Silk Lace, handpainted in 2 plies with a single ply of glitter
LENGTH: 400 Yards/90 Grams
GAUGE: Size US3 Needles 7 Stitches per inch/9 Rows per inch. Weight: Super Fine (1ace). Dryclean/Normal/Do Not Iron
SOURCE: HAND-MADE in the US from imported japanese silk
CARE: dry clean/handwash. AIR DRY LAYING FLAT. Do Not Iron
---
Silk Dream & Silk Day Dream patterns:
free download w/ Silk Dream/Day Dream Purchase!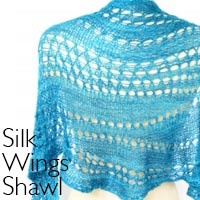 SILK WINGS SHAWL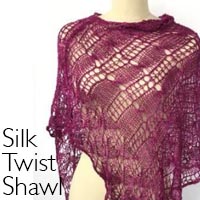 SILK TWIST SHAWL