KAL KIT: Choose SHAWL OR TOP — LOTS OF COLOR CHOICES BELOW!
Designed for the September 2022 Knitalong these Knit Kits use luscious Merino Cloud in a very simple slipped stitch pattern with a few interesting details to play up contrasting colors and create a striping effect. Iris has designed a simple 2-skain shawl, and as a more challenging option a top combining the mini-skein fadepacks with full skeins; you can make a sleeveless or sleeved top.
The big decision: what colors?! We've created color combos (below) for both shawl and top, but you can also create your own using any Artyarns Colors! Option: Iris suggests using the MULTI OMBRE series or the Inspiration Club Colors for the most dramatic contrast and color changes. If you do pick your own colors, let us know in the comments at checkout so we can make sure you get Part 1 of the pattern when it is released!
---
JOIN THE KNITALONG with Artyarn's Iris Schreier! Click here to join Iris on Ravelry for the September 2022 Artyarns Knitalong. Part 1 of the Pattern will be emailed prior to the KAL, the rest will come thru your participation in the KAL! Choose from shawl or top And click the images above to order your yarn from Fab's custom color combos!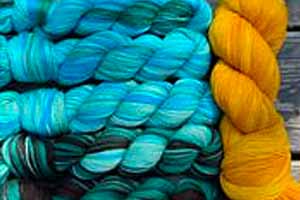 AQUA GIRL (71032+2397)
ARTYARNS MERINO CLOUD SPECS
FIBER: 80% Fine Merino / 20% Cashmere
YARDAGE: 437 yards/400 meters/100g
GAUGE: 5.5 sts = 1 inch (FINGERING/LIGHT DK) on US 5 Needles
SOURCE: Italian Merino & Cashmere
CARE: Dry clean or hand wash with AIR DRY LAYING FLAT