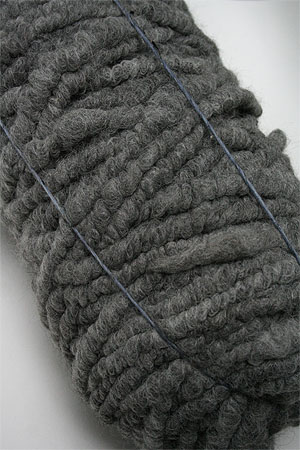 Beautiful, softly grey, with highlights and lowlightsof dark and light charcoal, this grey is a wonderful choice for a classic color! Combine it with the creamy natural, or the blended black/white and cream combo, and this yarn delivers. Whether you are knitting or crocheting using big stitch supersized needles or hooks, this yarn is a wonderful new experience for bulky yarn lovers.
$134.40 or less
after discounts applied at checkout.
Reg Price: $168
Content Bulky Strand is 60% Alpaca 34% Merino wool, The Core is Nylon
Gauge 1 st 1" and 1 row US50
Weight/Yardage 40oz/125 Yards
Care hand wash, lay flat air dry or dry clean
Spun from US Alpacas in Ohio

_______________________


Choose from Bagsmiths Jumbo Single Points, our Knitters Pride BASIX Jumbo Circulars!

Cream
Charcoal
Black
Dark Fawn
Med Fawn
Light Fawn
Grey

Multi Grey
(Cream/Black
Grey )

Multi Fawn
(Cream &
Fawns )


At 1 stitch per inch, this yarn truly earns its Bulky Yarn moniker!

That's Heather from Army of Knitters in the Bobble Cowl - free pattern with any purchase of a BUMP from US - Uses one skein of either kind of BUMP - merino OR alpaca!