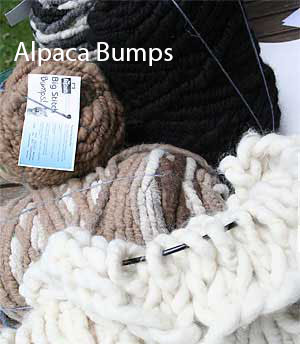 We at fab are always seeking out super bulky, funky and unusual bulky yarns. This fits the bill, exactly. A blend of alpaca, merino wool with a nylon core, this super bulky yarn is TRULY Uber-bulky. At 1 stitch per inch, it's one of the bulkiest we've found, and the ONLY super bulky alpaca. With gentle bumps and ridges, it has beautiful texture, and is not so heavy as to be unwearable when knitted. Makes for great rugs, and throws - almost 125 yards per bump, and think of what you can do with that at 1 stitch per inch!
$115 ON SALE (Reg Price: $150)
No further discounts on this sale item. Buy two or more bumps and receive an extra 5% off.

Content Bulky Strand is 70% Alpaca 30% Merino wool, The Core is cotton/nylon. Fiber content may vary due to production techniques
Gauge 1 st 1" and 1 row US50
Weight/Yardage Approx 40oz/125 Yards
EACH BUMP WILL VARY SLIGHTLY! These are handspun and every animal is different as well.
Care hand wash, lay flat air dry or dry clean
Sale is limited to stock on hand!)


__________________


Choose from Bagsmiths Jumbo Single Points, our Knitters Pride BASIX Jumbo Circulars!

Cream
Charcoal
Black
Dark Fawn
Med Fawn
Light Fawn
Grey

Multi Grey
(Cream/Black
Grey )

Multi Fawn
(Cream &
Fawns )


At 1 stitch per inch, this yarn truly earns its Bulky Yarn moniker!

That's Heather from Army of Knitters in the Bobble Cowl - free pattern with any purchase of a BUMP from US - Uses one skein of either kind of BUMP - merino OR alpaca!