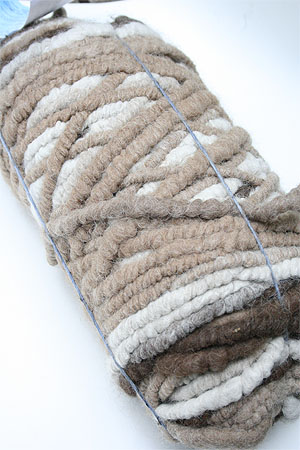 Soft and natural blends of all the colors that big stitch bumps come in, starting with natural, cream, white, charcoal grey and the dark and light fawns are spun together to make this multicolor alpaca yarn. Fantastic blending and a wonderful, wonderful colorway.
$150 or less after discounts
Discounts will be appled at checkout. Buy two or more bumps and receive an extra 5% off.
Reg Price: $150
Content Bulky Strand is 60% Alpaca 34% Merino wool, The Core is Nylon
Gauge 1 st 1" and 1 row US50
Weight/Yardage Approx 40oz/125 Yards
EACH BUMP WILL VARY SLIGHTLY! These are handspun and every animal is different as well.
Care hand wash, lay flat air dry or dry clean
Sale is limited to stock on hand!)


__________________


Choose from Bagsmiths Jumbo Single Points, our Knitters Pride BASIX Jumbo Circulars!

Cream
Charcoal
Black
Dark Fawn
Med Fawn
Light Fawn
Grey

Multi Grey
(Cream/Black
Grey )

Multi Fawn
(Cream &
Fawns )


At 1 stitch per inch, this yarn truly earns its Bulky Yarn moniker!

That's Heather from Army of Knitters in the Bobble Cowl - free pattern with any purchase of a BUMP from US - Uses one skein of either kind of BUMP - merino OR alpaca!