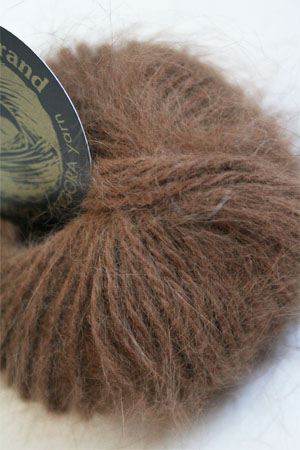 $12 after Fab Discounts applied at Checkout (Reg $15) + Free U.S. Shipping over $75!
(Avail: )
---
A lovely, warm brown with red in it - lighter than the 811 with a different tone.
---
FIBER: 100% humanely harvested French Angora Rabbit Hair
LENGTH: 33 yards/10 Grams
GAUGE: 4 stitches per inch
---
IT is with great sadness that we must announce that for the near term future, BELANGOR French Angora production, the most humanely produced angora on the planet, has pretty much been shut down due to pressure from PETA in France. Unfortunately, what this means is that most of the angora coming into the US will come out of china - where it is produced in absolutely inhumane ways. If you are searching for Angora on AMAZON, please know that most of the Angora sold there is NOT pure angora, but mostly a teeny bit of angora blended in with unidentifiable fiber. Don't be fooled.

We have quite a huge amount of the French Angora in stock - but NO WHITE. If you are looking for white angora for instance, for Santa Beards, we recommend Blue Sky Brushed Suri in WHIPPED CREAM. If the situation changes, we will email our list, so please do sign up for our elist newsletter at the top of any page!
Galler Handcombed French Angora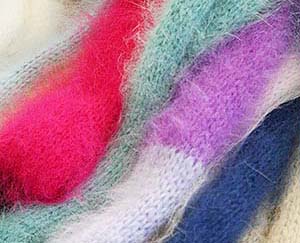 Extremely warm, this lighter than air yarn feels sumptuous against the skin, and is a favorite for cowls, hats, mittens and scarves. Galler Yarns has imported this yarn continuously since 1951. In 2013 this pure natural yarn, made from fibre hand-combed from carefully tended Angora rabbits, was officially designated as an Artisan Product in France.
Gauge depends on needle size - this can be knit as a DK or worsted, in a dense fabric or an open almost lacey one. Swatching can help determine correct gauge for your project; the swatch yarn can be re-used if undone gently. Every beautiful, adorable ball is it's own little ball of delight!
Above right, an amazing "halo effect" defines this beautifully soft angora!
---
FIBER: 100% Artisanal Hand-combed - humanely harvested French Angora Rabbit Hair
LENGTH: 33 yards/10 Grams
GAUGE: 4 stitches per inch
SOURCE: Humanely Combed French Angora
CARE: Handwash with care, dry flat; or have dry-cleaned at a facility with experience in this kind of fiber - the fiber felts easily